Customer Training for Mitel products (EMEA)
Training
Customer Training is provided at the desktop level and is usually delivered to groups, or to a company's own trainers who can then train others in their organisation.
Training covers all Mitel products, including voicemail and the features and functionality of all handset types. The training can be extended to cover consoles, and to give operators instruction in basic and advanced call handling, programming and console features.
Three Options
End user customers can choose how they receive their training
In a classroom environment at a Mitel office
At their own site on their live system
Self-study.
Product specialism's available for training are:
Communications: MCD (3300) and 5000
Applications: CIS, IQ, ACD, CSM and NuPoint Unified Messenger
Road Maps – How to Find the Training you need
The Training Road Maps below, for Communications and for Applications, help you to find the training you need. They show what courses are available, the order they should be taken in and any prerequisites you may need. Each Road Map shows the available courses, the means of delivery - classroom based, onsite or self-study, and any optional training you may be interested in.
Roadmap Communications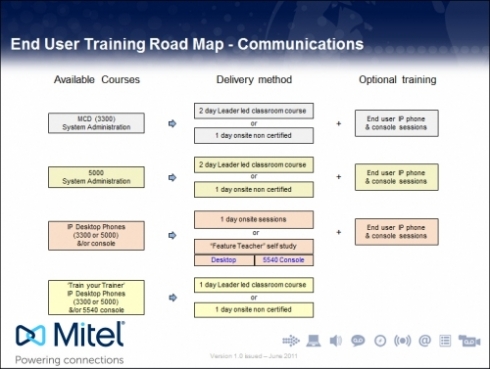 Road Map - Applications