Case study for Choice Group
ABOUT:
Choice Care Group (CCG) provides complex needs support services for individuals who require a safe, supportive and therapeutic living environment. The group facilitates learning opportunities and aids self-development for clients with learning disabilities, mental disorders and complex emotional and behavioural needs, including autism. Choice Care Group care homes are located in Wiltshire, Hampshire, Gloucestershire, Berkshire and Surrey.

Choice Care Group's telephony project presented a complex case that afforded Ash Telecom to solve several unexpected engineering challenges.

CHALLENGE:
Having established multiple new sites following a phase of considerable growth, Choice Care Group were in need of a more sophisticated telephone system, to unify communications between its main and remote sites.
Ash telecom suggested a solution with built-in resiliency, based on a Mitel 3300 IP telephone system at CCG's main site and a MiVoice Border Gateway Teleworker server solution supporting the remote sites, which would serve an average of 8 users in each location. The system was to run on an ISDN30 circuit with analogue lines as backup.
However, with the contracted provider failing to facilitate the required ISDN lines and the deadline approaching, Ash telecom agreed with the client to operate the system via SIP trunks instead. Within a week the system was up and running across all sites.
Shortly after the first solution had been implemented, CCG's broadband contract was unexpectedly terminated with a two-day notice period due to local council obstacles. With such short notice and no possibility to install another leased line or broadband, this meant the loss of the SIP trunks supporting the Mitel system.
Ash telecom took fast action to restore the telephone system and internet connection before the new broadband connection could be delivered:
We capitalized on the resiliency capability of the Mitel 3300 solution, which preserved system functionality.
We supplied alternative broadband connections with a load balancing router to keep the links between the main office and remote sites operating.
Two months later, CCG's decided to incorporate an MPLS solution flat network to cover a total of 50 sites, yet the new firewall restrained the SIP trunk lines' operation and quality of service.
As part of the maintenance and support package, Ash telecom designed a new setup derived from the original solution that allowed for the Teleworker server to be used as an SIP trunk proxy. Thus, the Teleworker server ultimately provided the SIP line service while also interlinking CCG's central and remote sites.
SOLUTION:
In order to provide CCG with a sophisticated multi-site network to support their expanding business, we proposed the installation of
a Mitel 3300MX controller to deploy the Mitel Communications Director (MCD) software and
a MiVoice Border Gateway (MBG).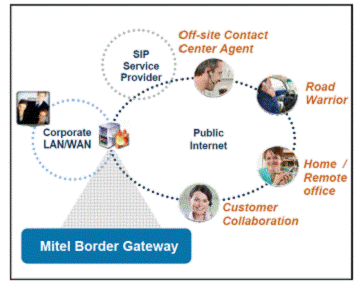 Mitel is renowned for its integrative, modular telephony solutions which made it the ideal choice to respond to CCG's request for a robust and collaborative multi-site telephone system.
The system was implemented by our in-house engineers who carried out a close survey of the sites to ensure the smooth transition to the Mitel system, and promptly designed alternative solutions as difficulties arose.
RESULTS:
Initial obstacles notwithstanding, CCG have gained a number of crucial benefits from the new system.
Collaboration: The MBG Teleworker server now allows employees to collaborate within the office network and to securely access voice and data capabilities from remote sites.
No bottleneck effects: The Teleworker server's integrated auto-attendant provides easy navigation to callers, directing incoming traffic to the designated CCG departments. Additionally, direct dial to user extensions is now available with redirection options to the recipient's voice mail and e-mail.
Cost efficiency: No call charges for inter-site communication and reduced hardware costs thanks to Mitel's efficient use of existing hardware.
CUSTOMER COMMENT:
"Ash telecom has provided a consistently high service, even when it was parts and re-jigs to old Nortel systems, up to the installation of new Mitel equipment under challenging conditions. They also excelled when we lost our Microwave link with 2 days notice, and within 24 hours of this provided our Head Office payroll/finance with internet, the group with email and the H.O. with phones over backup analogue lines and DDI's on backup plan."
Neil Whanell of Choice Care Group