Mitel Conference
Mitel® MiVoice™ Collaboration Point delivers multimedia collaboration right to the personal office meeting space. With MiVoice, collaboration becomes a natural part of a productive work day.
Easy, spontaneous collaboration.

With MiVoice, there's no need to book busy meeting rooms.

Multi-party collaboration, planned or spontaneous, happens right in the personal office meeting space.

Simplified meetings and presentations.

Starting multi-party collaboration is as simple as making a phone call. Manage all aspects of multimedia collaboration using an intuitive touchscreen interface, so even novice users get started fast.

Enhanced productivity and innovation.

Less time scheduling and managing collaboration, and more time spent actually collaborating, leads to stronger relationships with co-workers, customers, and partners. That drives higher productivity and innovation.
MiVoice delivers high-quality collaboration capabilities: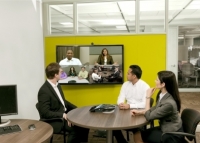 Multimedia collaboration.

MiVoice provides in-room presentation display that's simply not available on even more expensive conference phones. An HDMI interface supports connection to HD displays and projectors. The built-in four-party HD video bridge allows for visual collaboration with documents and presentation materials available to remote participants.

Superior audio quality.

HD, four-party audio provides a superior sound experience. A 16-microphone array uses patented beamforming technology to deliver crisp voice quality and advanced audio processing that makes conference calls feel like in-room experiences.

Open, standards-based.

Open, SIP-compatible, standards-based MiVoice fits seamlessly into existing infrastructures, including Mitel and other PBXs, video solutions, and computing environments. MiVoice supports multiple file transfer methods, including cloud access (Dropbox and Google Docs™), USB Flash Drive, Micro SD card, and linking to a remote desktop.